Material: Stainless Steel304,316L,H62
Cable: With packing seal
Protection Class: IP66
Explosion Mark: Exd II
Features:
With quick installation, safety, reliability and other characteristics of good protection.
1. It is Made of copper or stainless steel material;
2. Cable is sealed with gasketing;
3. With reliable installation, good protection and explosion-proof function;
4. Isolating gasket tube in suitable for clamping and fixing steel wire knit of armored cable, it is cable core and enclosure gas sealing protection most be lP66
Function: Suitable for clamping and fixing various types of armored cable.
It is widely used for clamping oil exploitation, oil refining and chemical industry, military and other hazardous locations and sealed cable;
It is applicable to explosive gas environment 1 zone, 2 zone places;
It is suitable for places of combustible dust environment 20 zone, 21 zone 22 zone;
It is suitable forⅡA,ⅡB,ⅡC explosive gas environment.
The Drawing: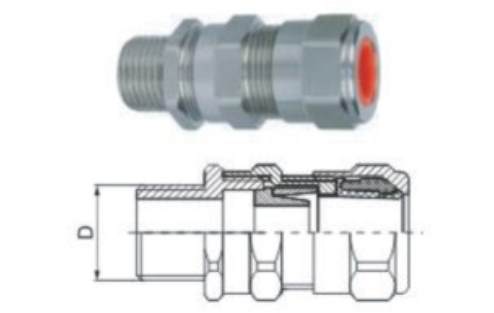 Code
specification(D)
Suitable for sealing cable diameter
Thread
Length

(φ)max

diameter

Armored layer thickness

Range(mm)

Weight(kg)

In addition to armored cable

diameter(outlet)

Outside diameter of

cable(wire)

Cable outside diameter

plional(inline)

JX-7-EX-12
M20×1.5
NPT1/2"
G1/2"
<10.5
5.5-12
-
15
66
30
0.3-1.0
0.16
JX-7-EX-16
M20×1.5
NPT1/2"
G1/2"
<10.5
9.5-16
-
15
66
30
0.3-1.0
0.16
JX-7-EX-20.5A
M20×1.5
NPT1/2"
G1/2"
<14.5
12.5-20.5
43263
15
68
30
0.3-1.0
0.15
JX-7-EX-20.5B
M25×1.5
NPT3/4"
G3/4"
<14.5
12.5-20.5
43358
15
68
37
0.3-1.0
0.2
JX-7-EX-26A
M25×1.5
NPT3/4"
G3/4"
<19.5
17-26
43358
15
73
37
0.4-1.2
0.2
JX-7-EX-26B
M32×1.5
NPT1"
G1"
<19.5
17-26
14-22
19
77
45
0.4-1.2
0.23
JX-7-EX-33A
M32×1.5
NPT1"
G1"
<25.5
22-33
14-22
19
81
45
0.4-1.4
0.21
JX-7-EX-33B
M40×1.5
NPT1 1/4"
G1 1/4"
<25.5
22-33
19-28
19
81
55
0.6-1.9
0.3
JX-7-EX-41A
M40×1.5
NPT1 1/4"
G1 1/4"
<31
28-41
24-33
19
88
55
0.6-2.2
0.26
JX-7-EX-41B
M50×1.5
NPT1 1/2"
G1 1/2"
<31
28-41
29-41
19
88
65
0.8-2.3
0.36
JX-7-EX-52.5A
M50×1.5
NPT1 1/2"
G1 1/2"
<37
36-52.5
29-41
19
96
65
0.8-2.3
0.35
JX-7-EX-52.5B
M63×1.5
NPT2"
G2"
<37
36-52.5
38-52
19
96
77
0.9-2.4
0.47
JX-7-EX-65A
M63×1.5
NPT2"
G2"
<49
46-65
38-52
19
114
82
0.9-2.4
0.45
JX-7-EX-65B
M75×1.5
NPT2 1/2"
G2 1/2"
<55
46-65
38-58
19
114
93
0.9-2.4
3
JX-7-EX-78
M75×1.5
NPT2 1/2"
G2 1/2"
<64
57-78
47.5-74
19
119
110
0.9-2.4
2.9
JX-7-EX-88
M90×1.5
NPT3"
G3"
<75
68-88
19
119
121
0.9-2.8
4
JX-7-EX-103
M115×1.5
NPT4"
G4"
<90
83-103
19
125
137
0.9-2.8
4.9
The key words of this product: