Material: Brass or stainless steel, brass with nickel plated
Cable: With packing seal
Protection Class: IP66
Explosion Mark: Exd II is equal to II 2G EXE II (European standard) Exd II equal to II 2G Exd II (European standard).
Features:
With quick installation, safety, reliability and other characteristics of good protection.
1. It is Made of copper or stainless steel material;
2. Cable is sealed with gasketing;
3. With reliable installation, good protection and explosion-proof function;
4. Isolating gasket tube in suitable for clamping and fixing steel wire knit of armored cable, it is cable core and enclosure gas sealing protection most be lp66
Function: Suitable for clamping and fixing various types of armored cable.
1. Can be used in Hazardous division 1&2;
2. Can be used in Explosive gas atmosphere;
JX3 DOES NOT HAVE cover ring (6).
The Drawing: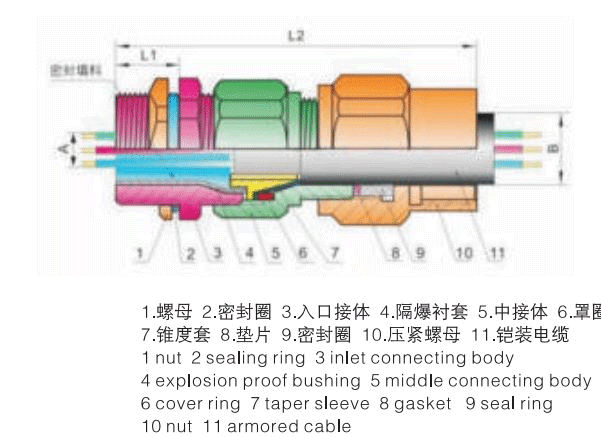 Ex Clamp Sealing Joint JX3- Metric, G Thread
Product Code
Thread AG
Outer Diameter of Cable (mm)
Thread length L1(mm)
Length L (mm)
Length L2 (mm)
Outlet A
Incoming Line B
JX-3-EX-15A
M16*1.5
-
8
7-15
15
68
85
JX-3-EX-15B
M20*1.5
G1/2
8
7-15
15
68
85
JX-3-EX-20
M25*1.5
G3/4
13
11-20
15
72
87
JX-3-EX-25
M32*1.5
G1
16
14-25
17
77
92
JX-3-EX-33
M40*1.5
G1 1/4
21
19-33
17
77
95
JX-3-EX-41
M50*1.5
G1 1/2
25
24-41
17
95
100
JX-3-EX-50
M63*1.5
G2
32.5
30-50
17
99
110
JX-3-EX-64
M75*1.5
G2 1/2
44
38-64
17
113
127
JX-3-EX-74A
M85*1.5
G3S
52
47-74
18
113
127
JX-3-EX-74B
M90*1.5
G3
52
47-74
18
127
137
JX-3-EX-90
M100*1.5
G4S
64
57-90
18
127
137
JX-3-EX-103
M110*1.5
G4
72
62-103
18
127
137
The key words of this product: