Material: Stainless Steel 304/316
Shape: hexagonal or round
Temperature: -40 Deg to 100 Deg, short time to 120 Deg
Certificate: CE, Ex d IIC Gb/Ex e II GB
Features: This product can transform different threads OD freely; Change larger Thread to smaller Thread.
Function: A reducer is used if the dimensions of existing tapped Holes are too large for a given gland. It provides a means of connection between cable entry devices and equipment having dissimilar Threads.
Accessories: Locknut, Sealing Washer
Note: We can produce different thread lengths and the other sides of threads (not standard) as the requirement of customer.
Ex Stainless Steel Reducer- Metric, PG, NPT Thread
Circle Series
Hexagon series
Item
Thread length (GL) mm
Height (H)mm
Hexagon size (D)mm
Male thread (D1)
JX-M16/12A-SRE
JX-M16/12B- SRE
M16*1.5
M12*1.5
6
8.5
18
JX-M20/16A- SRE
JX-M20/16B- SRE
M20*1.5
M16*1.5
6.5
9
24
JX-M25/20A- SRE
JX-M25/20B- SRE
M25*1.5
M20*1.5
7.5
10
30
JX-M32/25A- SRE
JX-M32/25B- SRE
M32*1.5
M25*1.5
8
11.5
40
JX-M40/32A- SRE
JX-M40/32B- SRE
M40*1.5
M32*1.5
9
12.5
43
JX-M50/40A- SRE
JX-M50/40B- SRE
M50*1.5
M40*1.5
10
14
57
JX-M63/50A- SRE
JX-M63/50B- SRE
M63*1.5
M50*1.5
10
14
64
JX-PG9/PG7A- SRE
JX-PG9/PG7B- SRE
PG9
PG7
6
8.5
17
JX-PG11/PG9A- SRE
JX-PG11/PG9B- SRE
PG11
PG9
6.5
8.5
20
JX-PG13.5/PG11A- SRE
JX-PG13.5/PG11B- SRE
PG13.5
PG11
6.5
9
22
JX-PG16/PG13.5A- SRE
JX-PG16/PG13.5B- SRE
PG16
PG13.5
6.5
9.5
24
JX-PG21/PG16A- SRE
JX-PG21/PG16B- SRE
PG21
PG16
7.5
10
30
JX-PG29/PG21A- SRE
JX-PG29/PG21B- SRE
PG29
PG21
8
11.5
40
JX-PG36/PG29A- SRE
JX-PG36/PG29B- SRE
PG36
PG29
9
12.5
50
JX-PG42/PG36A- SRE
JX-PG42/PG36B- SRE
PG42
PG36
10
14
57
JX-PG48/PG42A- SRE
JX-PG48/PG42B- SRE
PG48
PG42
10
14
64
JX-NPT1/2"-NPT3/8"A- SRE
JX-NPT1/2"-NPT3/8"B- SRE
NPT1/2"
NPT3/8"
6.5
9
24
JX-NPT3/4"-NPT1/2"A- SRE
JX-NPT3/4"-NPT1/2"B- SRE
NPT3/4"
NPT1/2"
7.5
10
30
JX-NPT1"-NPT3/4"A- SRE
JX-NPT1"-NPT3/4"B- SRE
NPT1"
NPT3/4"
8
11.5
40
JX-NPT1-1/4"-NPT1"A- SRE
JX-NPT1-1/4"-NPT1"B- SRE
NPT1-1/4"
NPT1"
9
12.5
50
The Drawing of EX Stainless Steel Reducer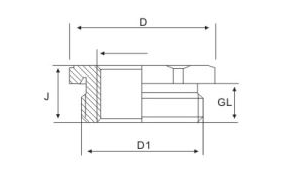 The key words of this product: