YUEQING JIXIANG CONNECTOR CO.,LTD is a professional manufacturer of various kinds of cablbe glands and cable connectors. JIXIANG combines research,production and sales. The main products are metal cable glands and nylon cable glands. We firmly believe that market is the key to the development of enterprises. Thus, we always take the high quality as our essential principle. Now we developed as an enterprise which has a production workshop of 4000 square meters.
Our products are widely used in electronic, machinery, instrument, electrical appliances and other industrial fields. They are also approved by CE,IP68,ROHS,EX, ATEX,TUV and ISO9001. JIXIANG cable glands are exported to Southeast Asia and other developed countries and regions because of its superb technology and superior quality. Meanwhile our products obtained approval and high praises from the domestic and foreign customers.
To create a better brand image, JIXAING takes good faith for the business, keeps innovative through development and completely implements good service. Strongly believe that our company will be presented itself as a brand-mew image among the enterprises in our country or even in the world.
Tel: +86-577-61118056
Fax: +86-577-61118055
Mobile: +86-18958708338
Email: jx@jxljq.com
product description
EMC Brass Cable Gland - D Series Metric Thread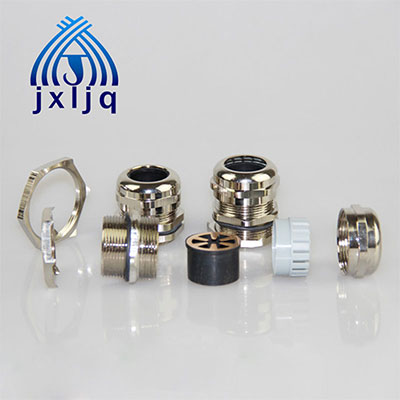 Material: The joint body parts are made of nickel plated brass, the clamping parts are made of plastic (PA) , and the seals and O-ring are made of nitrile rubber (NBR) .
Product Certification: CE, ROHS ,IP68 and ISO9001.
Protection Degree: in the specific cable range, the using of the O-ring helps tighten head, so that to reach IP68-10 bar pressure.
Working temperature:
Static: -40℃to 100℃, short time up to 120℃.
Dynamic: -20℃to 80℃, short time up to 100℃
Thread length:
The short thread is suitable for holes in the board or equipment with inner thread, while the long thread ia available for thick planted. Threads extension can be customized.
Features:
This product is a kind of specially designed metal cable gland which is used as an end.When shielded cable entries through this cable gland, the brass material contact chips attached in the cable gland will contact with the metal isolated network in the cable, Then the interfering electromagnetic wave will be leaded to the grounding wire, thus the interference source of electromagnetic wave will be evacuated. The brass materials cable glands with different sizes are widely applicable for outlet areas when anti-electromagnetic is needed. It is also waterproof with IP68 protection degree.
Draft Drawing of Gland: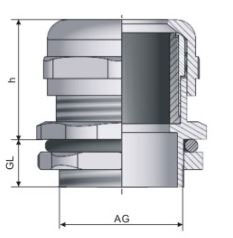 Brass Cable Gland With Strain Relief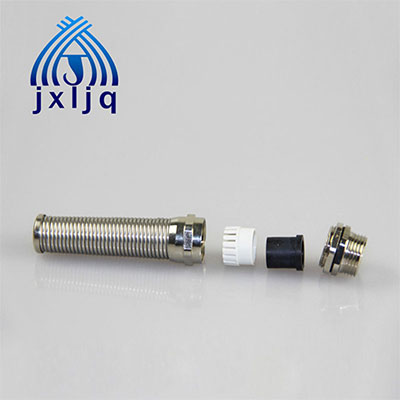 Material:
Body: brass nickel-plated
Cap nut: brass nickel-plated
Clamping Insert: polyamide,Pa6 V2
Sealing ring: NBR
O-ring: NBR
Product Certification: CE certificationand ISO9001.
Protection Degree: IP67
Working temperature: -40℃to 100℃, short time up to 120℃.
Function:
1. Can be used in flexible metallic conduit or liquid tight conduit in Power Plant, Power transmission system, communication system, building factory, railway, train, transportation system project, air conditioner, various machines, automates controlling plant. And protecting the electrical wire or cable outside the construction and plant.
2.Use to positively bond the conduit to a box or enclosure.
Technical Parameters:
| | | | | | |
| --- | --- | --- | --- | --- | --- |
| Product Code | Thread AG | Cable range(mm) | Body Height (mm) | Thread length GL(mm) | Spanner Size (mm) |
| JX-M12A-FL | M12*1.5 | 3-6.5 | 53 | 8 | 14 |
| JX-M12B-FL | M12*1.5 | 2-5 | 53 | 8 | 14 |
| JX-M16A-FL | M16*1.5 | 4-8 | 66 | 8.2 | 17 |
| JX-M16B-FL | M16*1.5 | 2-6 | 66 | 8.2 | 17 |
| JX-M20A-FL | M20*1.5 | 6.7-12 | 88 | 9 | 22 |
| JX-M20B-FL | M20*1.5 | 5-9 | 88 | 9 | 22 |
| JX-M25A-FL | M25*1.5 | 13-18 | 111 | 10 | 30 |
| JX-M25B-FL | M25*1.5 | 9-16 | 111 | 10 | 30 |
The Drawing of Flexible Cable Gland: