The cable gland is an accessory that connects the cable to the power supply, and can fix the cable so that it will not escape. Cable gland equipment is divided into different categories, depending on whether the gland is used for general industrial work or needs to be protected from high temperature or explosion hazards. Suitable cable glands can be armored or unarmored. Each type of packing requires a different type of stuffing box. The stuffing box itself can be made of metal, such as brass, aluminum, or plastic; each material is useful in different environments.
Next, let's introduce our brass cable gland.
Material: The joint body parts are made of nickel plated brass, the clamping parts are made of plastic (PA) , and the seals and O-ring are made of nitrile rubber (NBR) .
Product Certification: CE, ROHS ,IP68 and ISO9001.
Protection Degree: in the specific cable range, the using of the O-ring helps tighten head, so that to reach IP68-10 bar pressure.
Working temperature:
Static: -40℃to 100℃, short time up to 120℃.
Dynamic: -20℃to 80℃, short time up to 100℃
Thread length: The short thread is suitable for holes in the board or equipment with inner thread, while the long thread ia available for thick planted. Threads extension can be customized.
Features: This product is a kind of specially designed metal cable gland which is used as an end.When shielded cable entries through this cable gland, the brass material contact chips attached in the cable gland will contact with the metal isolated network in the cable, Then the interfering electromagnetic wave will be leaded to the grounding wire, thus the interference source of electromagnetic wave will be evacuated. The brass materials cable glands with different sizes are widely applicable for outlet areas when anti-electromagnetic is needed. It is also waterproof with IP68 protection degree.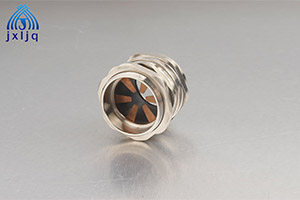 Company Profile
Yueqing Jixiang Connector Co., Ltd is a professional manufacturer of cable glands and other cable accessories, which located in BoTong HuiGu,Yueqing Economic Development Zone, Zhejiang Province . Our major products including metal cable glands, nylon cable glands, explosion-proof cable glands, waterproof vent plugs, metal hose connectors, cable accessories, armored or unarmored cable glands, etc.
Tel: +86-577-61118056
Fax: +86-577-61118055
Email: jx@jxljq.com