Are you looking for nylon cable gland but don't know how to select the high quality one?
However, the things will become easier if you notice follwing points.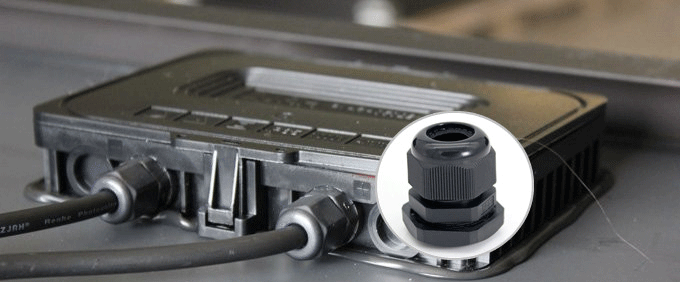 Choosing the Right nylon cable gland
It can be found users in different industries are certain differences in the basic requirements of nylon cable gland for business.
There are various types of them in the market to meet any requirements.
Thus, you need to familiar with it and choose the most suitable one.
The following are common types:
Standard Type:
Extremely easy installation, simply insert cable through the assembled gland and tighten gland locknut until cable is secured.
Long Thread Type:
Specially designed to lengthen thread length,suitable for thick board
Multi Hole Type:
Used for 2 or above 2 cable, to make sure each wire to get the best waterproof insulation and not intertwined.
90 degree Type:
It have a right angle shape to guide a bend-sensitive cable and provide strain relief
Spiral Type:
It featuring a flexible section to withstand the rigors of continuous flexing and bending.
Moreover, Explosion-proof type, Breathable type etc.
Although, the types of NCG are not as much as metal cable gland now.
Never mind, as constant updates, more categories will emerge.
They are assembled from several standard parts.

Including:
Lock Nut

Washer

Body

Seal

Claw

Sealing Nut
Usually, the lock nut, body, claw and sealing nut are made of Nylon.
The rest of the washer and seal are made of NBR or EPDM rubber.
There is no doubt that the materials plays a crucial role in determing the quality.
One of the most important indicators is the flammability of Nylon.
UL 94 (Underwriters Laboratories test standard UL 94)
is one of the most widely used flammability tests for determining relative flammability.
UL 94 V-2 is the normal requirement for NCG.
Your higher requirement is achievable, in return, you have to pay higher prices.
Class

Orientation of Test Sample

Definition

Time of Burn Allowed

Particle Drop Allowed

plaque Holes

Flaming

Non-Flaming

UL 94 HB

Horizontal

Slow Burning

Burning rate of less than 76mm/min for a specimen less than 3mm thick and burning stops before 100mm

UL 94 V-2

Vertical

Burning Stops

30 seconds

Yes

Yes

UL 94 V-1

Vertical

Burning Stops

30 seconds

No

Yes

UL 94 V-0

Vertical

Burning Stops

10 seconds

No

Yes

UL 94 5VB

Vertical

Burning Stops

60 seconds

No

No

Yes

UL 94 5VA

Vertical

Burning Stops

60 seconds

No

No

No
Find a Prefect Manufacturer
You will get twice the result with half the effort when you have a good partner.
Remember to choose a real manufacturer of nylon cable gland not a trader or a agency.
It means you can get lower prices and lead times shorter.
Good News
You have a lot of factory options.
Bad News
How do you choose the best partner for you among all kinds of nylon cable gland manufacturers?
Consider the capability of the manufacturers
The supply ability is most important. When you visist or watch the video of the facory's workshop remind to notice the numbers of machine, it will tells the supply capacity.
Meanwhile, the cleanliness of the office area and professional sales also reflects the strength of the company.
Some of the famous standards should be complied by NCG manufacturers
CE certificate
The CE mark indicates that the product may be sold freely in any part of the European Economic Area.
ROHS certificate
It restricting the use of hazardous substances in electrical and electronic equipment to protect the environment and public health.
ISO quality management system certificate
It helps ensure that customers get consistent, good-quality products and services.
IP68 waterproof certificate
IP, or Ingress Protection, is a universally accepted measurement of varying degrees for dust and liquid resistance.
UL approved Nylon materials
the Standard for Safety of Flammability of Plastic Materials for Parts in Devices and Appliances testing.
Consider the compatibility between you and factory
In the process of choosing NCG manufacturers, do not blindly adhere to the large manufacturers.
Large manufacturers tend to reply on large customers for service. It is often difficult for small customers to get benefit from them.
Such as you fail to meet their MOQ .
Consider manufacturer's product category scope
If you don't want to be a lab rats for a factory trying out a new product type for the first time.
Better to find a factory who is specialized in just cable gland or NCG area.
Oppositely, factory with multiple product categories will resemble a shopping mall.
You can purchase what you want all at once, like buy cable gland when you buy the cables.
The balance of save time or cost, it's up to you.
Conclusion
The NCG is an important component of electrical installations.
It will protect electrical components against mechanical and environmental forces.
It will safeguard your electrical project with commercial grade strain relief.
Do you think you are ready to find the best one?
Is so, thank you for reading and good luck for you.
If any questions related to nylon cable gland, please feel free to contact us!